---
Dachshund Museum Opens in Germany
On This Site
Share This Page

---
Follow This Site

April 11, 2018
The German region of Bavaria now has a museum dedicated to all things dachshund.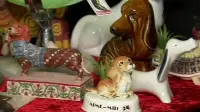 The Dackelmuseum (German for "Dachshund Museum") opened in Passau on April 2. Customers shopping in the store opened by florists Josef Küblbeck and Oliver Storz can find more than 4,500 figurines, photos, stamps, and other items showing or inspired by the tiny sausage-shaped dog. Hungry customers can get their fill of dachshund-shaped chocolates and pretzels nearby, and a restaurant around the corner is offering a dachshund pizza–with sausages that are not made from dogs(!).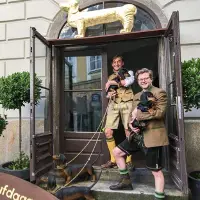 The museum is the product of a decadeslong determination by the museum owners to showcase their affinity for their beloved dogs. The owners have dogs themselves, named Moni and Seppi. The dogs will occasionally do guest appearances at the museum, their owners said.
Why the dachshund? Why the museum? The owners said that they really liked that particular breed of dog and wanted to showcase it and its connection to their country. Dachshunds have long been in Germany; some of the earliest stories of the dogs have them using their long snouts and bodies to great effect in hunting out badgers, foxes, and other animals that humans considered pests. The German Dachshund Club, which has more than 20,000 members, dates to 1888. Germany's Kaiser Wilhelm II had a dachshund named Ermann that has its own gravestone.

Dachshunds have found great favor in Bavaria in particular, so much so that the mascot for the 1972 Olympic Games, which took place in Munich (a Bavarian city), was a dachshund named Waldi.
The owners are happy to give guided tours of their memorabilia. In fact, they are already booked solid through June.