---
On This Site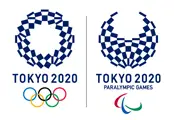 Share This Page

---
Follow This Site


PARIS TAKES OLYMPIC RESPONSIBILITY
August 8, 2021

During the Tokyo Closing Ceremonies, the Mayor of Paris, Anne Hidalgo, took the Olympic flag and waved it, marking the official passing of the Olympic Torch from one Olympic city to another. Paris is the host city for the 2024 Summer Games; the last time that Paris was the Olympic host city was 1924. A live broadcast during the Closing Ceremonies featured a shot of the unfurling of a 2024 Olympic flag from the Eiffel Tower. French President Emmanuel Macron offered remarks from a state near the Tower. A handover also took place aboard the International Space Station as French astronaut Thomas Pesquet and Japanese astronaut Akihiko Hoshide conducted their own handover.
---
U.S. TOPS MEDALS TABLE
August 8, 2021
Team USA won the most medals of any country at the 2020 Olympics. American athletes scored 113 medals in all: 39 gold, 41 silver, and 33 bronze. Across the 28 sports, it was 164 women and 93 men winning medals for the American team, which clinched the highest gold medal tally on the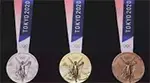 last day of competition, just ousting China's team. China won 88 medals over all (38 gold, 32 silver, 18 bronze). The Russian Olympic Committee (athletes competing without official representation because their home country was banned from participating) totaled 71 (20 gold, 28 silver, 23 bronze). In all, 94 nations won at least one medal in Tokyo. That was a record. Claiming their first ever medals were Burkina Faso, San Marino, and Turkmenistan. Setting new medal total records were Brazil (21), Chinese Taipei (12), Italy (40), Japan (58), Netherlands (36), New Zealand (20), and Turkey (13). Among individual athletes, Australian swimmer Emma McKeon topped the field, winning seven medals, four gold and three bronze. American swimmer Caeleb Dressel won the most gold medals, five. Winning a total of four medals were swimmers Katie Ledecky of the U.S., Kaylee McKeown and Ariarne Titmus of Australia, and Yufei Zhang of China.
---
U.S. WOMEN'S BASKETBALL TEAM WINS 7TH STRAIGHT GOLD
August 8, 2021

The American women's basketball team has achieved dominance unmatched by their male counterparts. The women's team, after trouncing Japan 90–75 in the final, have won the gold medal seven straight times and have also won a total of 55 straight games. Veterans Sue Bird and Diana Taurasi claimed their fifth gold medals, the first of either gender to achieve such a feat. Brittany Griner led all scorers with 30 points, setting a gold-medal game record in the process. Head coach Dawn Staley won gold as a player in 1996, 2000, and 2004. Japan's silver medal was its best ever finish in women's basketball.
---
BASEBALL PLAYER ACHIEVES SUMMER–WINTER MEDAL DOUBLE
August 7, 2021

Eddy Alvarez is the sixth person ever (and the third American ever) to have earned a medal in both the Summer Olympics and the Winter Olympics. He first medaled in Sochi, in 2014, as part of the 5000-meter speed skating relay team. When the U.S. baseball team claimed silver in Tokyo, Alvarez had his double. (Japan defeated the U.S. 2–0 to win gold.) The other Americans to achieve the medal double were Eddie Eagan, who won a gold in light heavyweight boxing in 1920 and gold in the four-man bobsled in 1932, and Lauryn Williams, who won silver in the 100-meter dash in 2004 and gold in the 4-by-100-meter relay in London in 2012 and then claimed silver in the bobsleigh in 2014. The others to have achieved a Summer–Winter double are Norways Jacob Tullian Thames (ski jumping gold in 1924 and silver in 8-meter sailing in 1936), Christa Luding-Rothenburger of Germany (speed skating gold in the 500 meters in 1984 and the 1,000 meters in 1988, silver in the 500 meters in 1988, and bronze in the 500 meters in 1992 and then a silver in the track cycling sprint in 1988), and Canada's Clara Hughes (bronze in both the cycling road race and time trial in 1996 and then speed skating gold in the 5,000 meters and silver in the team pursuit in 2006, bronze in the 5,000 meters in both 2002 and 2010).
---
SPANIARD, 18, WINS GOLD IN DEBUT OF SPORT CLIMBING
August 5, 2021

Spain's Alberto Ginés López has won the first Olympic gold medal in sport climbing, one of a handful of sports to make their debut in Tokyo. All of 18, López is his country's youngest ever male gold medalist. Sport climbing is a combination of three different kinds of climbing: bouldering, lead climbing and speed climbing. López found the bouldering competition challenging but worked his way up the standings in the lead climbing and then powered his way to gold in the speed event. American Nathaniel Coleman finished second, and the bronze went to Jakob Schubert of Austria.
---
JAMAICAN SPRINTER COMPLETES DOUBLE-DOUBLE
August 3, 2021
Elaine Thompson-Herah has done it again. The Jamaican sprinter has won gold in the
100-meter dash and the 200-meter dash. She achieved the same feat at the 2016 Olympic Games. In Tokyo, she set an Olympic record with her winning 100-meter time. Her 200-meter time was the second-fastest in Olympic history. Also of note in the 200-meter race: Christine Mboma won silver for Namibia, her country's first Olympic medal since 1996 and the first ever for a Namibian woman. American Gabby won the bronze. It was a Jamaican sweep in the 100-meter dash, as Thompson-Herah's teammates Shelly-Ann Frayser-Price and Sherick Jackson won silver and bronze, respectively.
---
HIGH JUMPERS DECIDE TO SHARE GOLD MEDAL
August 2, 2021

It all came down to two. When it was over, two were still left. Mutaz Barshim of Qatar and Gianmarco Tamberi of Italy agreed to share the gold medal were the last two men standing in the high jump. They had both cleared 2.37 meters and had both missed 2.39 meters, the Olympic record height, three times; still tied, they had a jump-off to come. Instead, the pair, who are good friends off the field, decided to share first place. Barshim won bronze in 2012 and silver in 2016. This year's gold was Tamberi's first Olympic medal.
---
DUTCH RUNNER WINS HEAT AFTER FALL, THEN WINS SEPARATE GOLD
August 2, 2021


Dutchwoman Sifan Hassan won her heat in the 1,500-meter race despite falling down. She was on the last lap when a runner ahead of her fell; Hassan tried to jump over the fallen competitor but ended up falling herself. The determined Hassan got back up and powered past 11 other runners, winning the heat. Her victory earned a spot in the 1,500-meter semifinals. On the same day that she fell but still won the heat, she won gold in the 5,000-meter race. In the process, she became the first woman from the Netherlands to earn an Olympic medal of any kind in a long-distance race. Her goal is to add to that victory not only the 1,500-meter race but also the 10,000-meter race—a feat that has yet to be achieved.
---
BOLT'S SUCCESSOR: ITALY SCORES FIRST-EVER GOLD IN 100-METER DASH
August 2, 2021

Lamont Marcell Jacobs is the fastest man in the world, Olympic-style. The Italian sprinter touched the tape first, in 9.80 seconds. American Fred Kerley was second, in 9.84, and Canada's Andre De Grasse claimed bronze in 9.89. Jacobs was the first Italian man ever to make the final of the 100-meter dash. He had also come late to sprinting, having been a long jumper as late as 2019.
---
GRECO-ROMAN WRESTLER SCORES FOURTH STRAIGHT GOLD MEDAL
August 2, 2021

Mijain Lopez of Cuba has won gold again, marking his fourth straight Olympic triumph in the 130kg category in Greco-Roman wrestling; no other wrestler has won as many golds. He nailed down his victory by defeating Iakobi Kajaia 5–0. Lopez is one of only five athletes ever to win gold in the same event for four straight Olympics. The others have been Paul Elvstrom (Finn sailing 1948–1960) of Denmark and Americans Al Oerter (discus, 1956–1968), Carl Lewis (long jump, 1984–1996), and Michael Phelps (swimming, 200-meter individual medley).
---
DISPLAY OF SPORTSMANSHIP OVERCOMES FALL
August 1, 2021

The Olympics is about competing, first and foremost, many athletes say. Many win medals, but many more do not. For many, it's all about the camaraderie and the sportsmanship. Both of those last two thing were on display in qualifying for the man's 800-meter dash. Isaiah Jewett of the U.S. was headed toward advancing, homing in on one of the top two spots, when another athlete tripped him. Nijel Amos of Botswana unintentionally brought his foot down on the back of Jewett's heel. Jewett fell, then Amos fell, too. Jewett helped a devastated Amos to his feet, accepted the apology, and then put his arm around his fellow competitor. The two men then finished what they had started. Amos let Jewett finish a step ahead. Neither advanced, but both displayed the kind of sportsmanship for which the Olympics were created.
---
MEDALIST BOUQUETS FEATURE FLOWERS FROM QUAKE-RAVAGED AREAS
August 1, 2021
The athletes who win medals at the 2020 Olympic Games and Paralympic Games are being handed bouquets of flowers that have special significance: They were grown in areas devastated by the Sendai earthquake 10 years ago.
It was in March of 2011 that an 8.9 magnitude earthquake struck off the coast of Japan, creating a massive tsunami that descended in the form of 23-foot-tall wave of destruction on the northeastern part of the country, killing hundreds of people and injuring thousands more. Prominent among the damage was a meltdown at the nuclear power plant at Fukushima Dai-ichi, 170 miles northeast of Toyko. Radioactive material leaked into the surrounding soil and into the Pacific Ocean. As well, hundreds of thousands of people had to leave their homes, and many have not returned.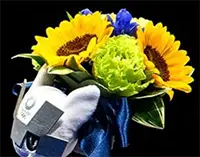 The bouquets being given to athletes number more than 5,000. The flowers making up those bouquets are from the following places:
From Fukushima come the eustomas and Solomon's seals, white and purple in color.
The yellow sunflowers come from Miyagi and were planted by parents who lost children in the wake of the tsunami.
Iwate, severely damaged by the giant waves, is home to the blue gentians.
Green aspidistras come from Tokyo, the host city and also the scene of much devastation wrought by the 2011 quake.
---
AMERICAN LEE WINS GYMNASTICS ALL-AROUND
July 29, 2021
Sunisa Lee of the U.S. won gold in the women's artistics gymnastics individual all-around. In doing so, she continued an American streak that now stretches to five. The last four Olympic champions in the all-around have been Americans: Cary Patterson (2004), Nastia Liukin (2008), Gabby Douglas (2012), and Simone Biles (2012).
Biles, who has not lost an all-around competition since 2013, was the overwhelming favorite to repeat as champion. However, she withdrew from the team competition while it was happening and then withdrew from the individual all-around before it started. She said that she was feeling tremendous pressure to succeed and that she needed to prioritize her mental health. (Support for her actions and stance have been overwhelming.) She was in the stands cheering for her teammates during the individual all-around final.
Lee, an 18-year-old from Minnesota, was already scheduled to compete. Jade Carey took Biles's place in the all-around. She finished eighth.
Lee, riding an uneven bars that was judged the most difficult in the world, finished with a points total of 57.433, becoming the first Hmong American to win an Olympic gold medal. In second, with 57.298 points, and winning the silver medal was Brazil's Rebeca Andrade (whose country did not qualify its team). Angelina Melnikova of Russia (whose country was not allowed to send a team officially) claimed bronze, totaling 57.199.
Lee and Biles had earlier teamed with Jordan Chiles and Grace McCallum to win silver in the team all-around.
---
TEAMWORK ON THE PODIUM
July 29, 2021

Olympics officials had decreed that, because of pandemic protocols, they would not be hanging medals around winners' necks. Instead, the plan was for an official to have the gold, silver, and bronze medals on a tray and then hand the tray to each athlete, who would then put the medal around his or her own neck. Since most athletes have a set of flowers in one hand already, the donning of a medal proved a bit tricky in the early going. So the athletes, in the spirit of teamwork, started helping each other put on medals. In the photo at right, Yang Qian puts the gold medal around the neck of Yang Haoran. The pair won the 10-meter air rifle mixed team competition.
---
SURFING GOLDS: THE EXPECTED AND THE UNEXPECTED
July 27, 2021
Sometimes, the top-ranked athlete in the world wins the Olympic gold medal. That was the case with women's surfing, as American
| | |
| --- | --- |
| Moore | Ferreira |
Carissa Moore finished first, besting Bianca Buitendag of South Africa in the final round. It was down to the final two in that final round, and Moore came out on top. Amuro Tsuzuki won the bronze. The same was not the case in men's surfing, as Gabriel Medina of Brazil, the world's top-ranked male surfer, failed to make the podium. Instead, his countryman Italo Ferreira won gold, besting Kanoa Igarashi in the final round. Owen Wright, who defeated Medina, claimed bronze.
---
FEMALE WEIGHTLIFTER 1ST FILIPINO GOLD MEDALIST
July 26, 2021


Before this year, the Philippines had sent athletes to the Olympics for 97 years and none had won a gold medal. That has now changed, as Hidilyn Diaz has won the women's 121-pound weightlifting event. In the process, the 30-year-old four-time Olympian set a record, lifting a combined weight of 493.8 pounds. The jubilant Diaz saluted and sang along as her national anthem played during the medal ceremony. She was already the first female Filipino athlete to win an Olympic medal,
having scored a silver in Rio in 2016. (She had written a children's book, Ginto't Pilak, about that life-changing experience.) Like many athletes, Diaz found her Olympic training buildup changed by the outbreak of the COVID-19 virus. She was stranded in Malaysia and used whatever she could find to construct a makeshift and training program. One of her training methods was lifting a bamboo stick hooked through the handles of two large bottles of water.
---
FEMALE TRIATHLETE WINS BERMUDA'S 1ST GOLD
July 26, 2021


Before this year, the Flora Duffy has won the women's triathlon, becoming the first Bermuda athlete ever to win an Olympic gold medal. The 33-year-old Duffy, world champion in 2016 and 2017, was in the front pack on the run and then pulled away, finishing in 1:55:36. Great Britain's Georgia Taylor-Brown overcame a flat rear tire in the waning stages of the bike leg and finished second. Katie Zaferes of the U.S. was third.
---
RUSSIAN MEN WIN GOLD IN GYMNASTICS
July 26, 2021
Athletes representing the Russian Olympic Committee have won gold in the men's gymnastics team competition. The team, which includes reigning world all-around champion Nikita Nagornyy, scored a total of 262.500, edging out hosts Japan (262.397) and China (261.8934). The Russians took the lead after the third rotation and held on through the end. Their country is officially banned from these Olympics, so their medals were presented without their flag flying and without their national anthem playing. It was Russia's first win since 1996. Japan had won at the most recent Olympics, in Rio, in 2016, with Russia finishing second and China third.
---
ATHLETES CAN REMOVE MASKS FOR PODIUM PHOTOS
July 25, 2021
Olympics officials have agreed that athletes on the podium during the medal ceremony can remove their mandated masks for 30 seconds so that the world can see their faces in photos taken at that time. Athletes must wear masks for any photos of all three medalists standing together. Photographers taking such photos of maskless athletes must remain at a safe distance. Athletes must wear masks for any closeup photos.
---
CYCLIST MAKES BREAKAWAY STICK
July 25, 2021

Anna Kiesenhofer of Austrian won the women's cycling road race in dominating fashion, breaking away from a small group after 107 kilometers and staying well in front for the final 40. She was so far ahead that the next cyclist, Dutchwoman Annemiek van Vleuten, finished ahead of the pack and celebrated, thinking that she had won. By that time, however, Kiesenhofer had been finished for 75 seconds. Elisa Longo Borghini of Italy claimed bronze.
---
JAPANESE GOLD IN FIRST SKATEBOARDING EVENT
July 25, 2021

Japan's own won Yuto Horigome gold in the first event in men's street discipline in skateboarding, one of four debut events in Tokyo. Brazil's Kelvin Hoefler won silver, and American Jagger Eaton took bronze. Eaton was, to some, a surprise medalist, having been born into a family of highly successful gymnasts. But he finished ahead of his most decorated countryman, six-time world champion Nyjah Huston, who bombed out on four of five trick tries and finished seventh.
---
GYMNAST RETIRES AFTER EIGHT OLYMPICS
July 25, 2021

Gymnast Oksana Chusovitina got a standing ovation from her peers and everyone else when she said goodbye at her eighth Olympics. The 46-year-old Uzbeki athlete did not qualify the final in the vault. Hearing the cheers anyway, she stood on the vault runway and thanked the people applauding her. She then posed for photos with a handful of her competitors, many of whom are older than her son, who is 22. Her competitive days began in 1991, when the Soviet Union was still an entity; she represented the U.S.S.R. at the 1991 world championships. The very next year, the Soviet Union had disappeared and Chusovitina was at the Barcelona Olympics, representing the Unified Team, which won gold. She won silver in the vault in Beijing in 2008. In her final Olympics, her eighth, she represented Uzbekistan, where she now lives. In 17 appearances at the World Championships, she had won 11 medals.
---
SLOWEST IN QUALIFYING, FIRST IN FINAL
July 25, 2021


Performance in qualifying rounds is usually an indicator of performance in final rounds. Such was not the case with the men's 400-meter freestyle swimming event. Tunisian swimmer Ahmed Hafnaoui recorded the slowest qualifying time. He still made the final, however, and it was in that event that he shown, winning gold and defeating heavy favorites Jack McLoughlin of Australia and American Kieran Smith, who claimed silver and bronze, respectively. It was his country's fifth even gold medal (third in swimming).