---
Book Review: Adventures with the Vikings
---
One of the best ways to learn about history is to experience it yourself. Who among us wouldn't want to travel back in time and see for ourselves what life was like way back then? That's the idea behind Linda Bailey's wonderful new book
Adventures with the Vikings
.
Bailey is an expert in this field now, having already written Adventures in Ancient Egypt and Adventures in the Middle Ages. And she shows her stuff this time around in this wonderful look at Viking life.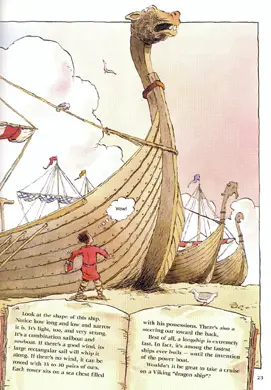 The Binkertons (Emma, Josh, and Libby) are at it again. These fun children pay another visit to their friend Julian T. Pettigrew at the Good Times Travel Agency. And before they know it, they're off on another adventure, this time to Scandinavia in the time of the Vikings!
As always, you can read these books two ways: You can follow the adventures of the Binkertons, and you can find out more about the world they're experiencing. The device is a Guidebook, which contains basic information about the people, places, and customs the Binkerton kids are seeing. Bailey finds clever ways to introduce each topic (such as having the Vikings encounter a storm at sea and call on the god Thor in order to talk about Viking religion).

Bill Slavin is back as illustrator, and he does his job admirably, throwing in a few nice touches for those paying attention (such as this image of a not-quite-so-fierce-looking dragon on the prow of a Viking longship).
The book looks like an oversized comic book, and it reads with the ease of one as well. The Guidebook entries, especially, give you a lot of information without getting you bogged down in facts and figures.
Overall, this is a great book. It's very exciting, and it gives the reader a lot of information in a short amount of time. You'll enjoy following the fun and sometimes silly adventures of the Binkerton kids, and you'll also learn a lot about the Vikings (even if you don't realize it).
Graphics courtesy of Kids Can Press