---
Book Review: Mahalia Jackson, Gospel Singer and Civil Rights Champion
---
Book Seven in the wonderful Young Patriots Series is
Mahalia Jackson, Gospel Singer and Civil Rights Champion
, by Montrew Dunham. Like the other books in the series, this book is a republication, this time of a book that came out originally in 1974.
It is as compelling as ever.
Jackson is known as the voice of gospel music, especially in the African-American community. Her dedication to her art and her devotion to the particular kind of music that gospel is shine through in this biography, which covers much of her early life, not just her childhood. Her wonderful soaring voice is the star of this story and, indeed, her life.
Early on, Mahalia is entirely devoted to her father, made moreso when her mother dies at a young age. Illustrations of this devotion are vivid and well told.
We also see glimpses of Mahalia's ingenuity, especially illustrated by an episode in which she teaches herself how to make a mattress out of cotton sacks, with corn husks and moss for filling.
By far the overriding message in this book is this: Stay true to your dreams. Time and again, Mahalia is tempted to sing a different kind of music to make money; each time, she refuses, preferring to pursue her gospel singing, even if it means she has to work long hours at a laundry.
Her first chance to sing a different kind of music comes when she is young: A couple hear her beautiful voice and want to feature her in a traveling show; Aunt Duke, who has taken responsibility for rearing Mahalia, says no, and that is that. Mahalia actually wanted to go at that time. After that, she never again wants to sing anything but gospel.
The book succeeds extraordinarly well at explaining the difficulties faced by African-Americans in America in the time that Mahalia was growing up, the 1920s, 1930s, and 1940s. Born in New Orleans, she learns to live with segregation and then has her eyes opened wide in the "different world" of Chicago, which is more tolerant of racial differences. Especially telling is Mahalia's having to abandon schooling after the eighth grade because further education "just wasn't needed."
As always with the books in this series, the illustrations, by Cathy Morrison, are marvelous, really putting the reader right in the middle of the action.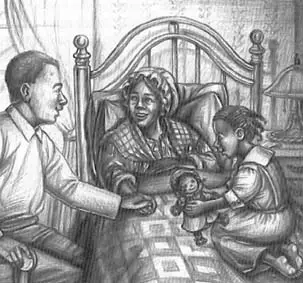 This book does a better job than others in the series of detailing more of the subject's life. In this case, we actually follow Mahalia through some of her adult life, a marriage, and into her first professional success as a gospel singer. The second half of the subtitle of the book, however, Civil Rights Champion, is justified only by the What Happened Next timeline at the end of the narrative. (And such a minor detail can be overlooked in favor of the successes of the book, which are much more numerous.)
Other books in the series:
Amelia Earhart: Young Air Pioneer
William Henry Harrison: Young Tippecanoe
Lew Wallace: Boy Writer
Juliette Low: Girl Scouts Founder
James Whitcomb Riley: Young Poet
Eddie Rickenbacker: Young Racer