---
Book Review: Helen Keller, a Determined Life
Reading Level
Ages 9-12
Share This Page

---
Follow This Site


---
One of the most compelling figures in all of American history was the extraordinary Helen Keller. The story of the determination and intelligence of the brilliant yet severely disabled Keller is told here in excellent detail and style by Elizabeth MacLeod, author of the illuminating Snapshot Series, which also includes
The Wright Brothers
.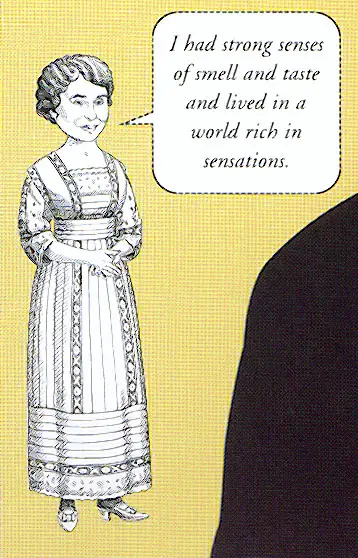 The most remarkable thing about this book, as is the case with The Wright Brothers, is the "talking Helen." The pages are filled with a facsimile of a smiling Helen relating aspects of her life "in first person." She appears as a perfectly normal person. She smiles, gestures, and even "leans against things" on the page. This is a wonderful addition to the book and a signature illustration scheme that sets the series apart.
The book follows roughly the chronology of Helen's life, with enough examples of her wit and wisdom included to form a well-rounded vision of this extraordinary woman and the struggles that she overcame with grace and dignity. Much is made of the courage that Helen's parents, Arthur and Kate, had in refusing to institutionalize their obviously disabled daughter, in favor of endeavoring to give her the kind of education that would be the right to achieve of any "non-disabled" child.
Most accounts of Keller's life include a great deal about Annie Sullivan, as they should. This book does as well but goes beyond Sullivan's efforts to include Polly Thomson, who actually took over most of Annie Sullivan's duties when Sullivan became too infirm to continue her role as Helen Keller's eyes, ears, and mouth to the world.
Most accounts of Keller's life also focus mostly on Helen's childhood. That is the temptation, especially in a book for young readers. But MacLeod includes Helen's entire life, including her adulthood, to present a complete picture of a woman who triumphs over adversity and gains the respect and admiration of millions of people all over the world. In this way, readers learn much more about the wonderful Helen Keller, including the fact that she was not only an author but also a stage performer and movie star and not only a cross-country traveler but a world traveler. She visited black people in South Africa in 1951, long before the end of apartheid. In fact, she visited 35 countries in an 11-year span.
As an introduction to the life of Helen Keller, this book far surpasses others of its kind. As a well-rounded image of the triumphs of a famous American, this book succeeds.