---
Sweden's 1st Female Prime Minister Back in Charge
On This Site
Share This Page

---
Follow This Site


November 29, 2021
Sweden will have its first female prime minister, again.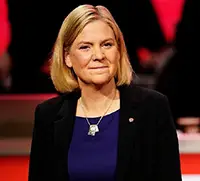 Magdalena Andersson, who stepped down mere hours after being elected last week, is once more the leader of the country. The former finance minister and current leader of the Social Democratic Party, Andersson won election but then stepped down after losing a budget vote and a coalition partner. After the Riksdag embraced a budget proposal by the opposition, the Green Party left the two-party ruling coalition. Seeing that, Andersson resigned.
This week, she won re-election, on a technicality. All 349 members of the Riksdag voted on her candidacy. Of those, 101 voted in favor and 173 voted against. The other 75 abstained. Constitutional strictures allow a candidate to be declared prime minister as long as a majority of the votes are not in opposition. By two votes, Andersson won re-election.
The now one-party government will be in power, barring other unforeseen difficulties, until the next general election, which will take place in September 2022. During that time, Andersson and the Social Democrats will attempt to rule alone, having only 100 of the 349 seats in the Riksdag.
Andersson is the first of 34 Swedish prime ministers to be female. Sweden had a monarchy-led government until 1876, when the office of prime minister was created. Andersson became leader of her party in early November 2021, succeeding the retiring Stefan Löfven, who had been prime minister since 2014.
The office of Prime Minister in Sweden has no term limit. The previous record-holder for the shortest term as prime minister was held by Felix Hamrin, who led the country for 49 days in 1932 in a caretaker role, following the resignation of his predecessor, Carl Gustaf Ekman, due to a financial crisis. The longest-serving prime minister in Sweden's history, by quite a long way, was Tage Erlander, who spent 23 years and 3 days in office, from October 1946 to October 1969.