---
Stonehenge Altar Stone Not from Wales, Study Suggests
On This Site
Share This Page

---
Follow This Site


October 2, 2023
A new study suggests that Stonehenge's iconic Altar Stone might have origins different from previously thought.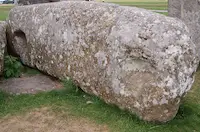 The current thinking is that the "bluestones" making up the inner circle of the famous stone monument came from the Preseli Hills, in the western part of Wales and that people thousands of years ago moved them from their origin point to the Wiltshire plain. That thinking is 100 years old this year and is perhaps one of the motivations for a new study of such things.
The bluestones are in the interior of the collection of rocks at Stonehenge. The taller and more familiar standing columns are known as sarsen stones.
Richard Bevins, leader of a new team of researchers into the matter and an honorary professor of geology and earth sciences at Scotland's Aberystwyth University, reported that, according to his team's findings, the Altar Stone had a home location not in western Wales but in the north. The team's research found no correlation between findings of geochemistry and mineralogy testing done on the Altar Stone and on sandstone locations in western locales in both Wales and England. As well, the tests revealed a high amount of barium in the Altar Stone, suggesting to researchers that it came from northern England or even Scotland.
As recently as 2018, researchers were convinced that the Altar Stone had come from Wales, although research at that time (which also pinpointed the location of the bluestones source quarries) still supported the idea that Wales was the source for the largest of Stonehenge's stones.