---
Dutch Dig Unearths Roman Fort Tied to British Invasion
On This Site
Share This Page

---
Follow This Site


January 3, 2022
Archaeologists have found a fort thought to be a launching point for the Roman invasion of Britain in the 1st Century.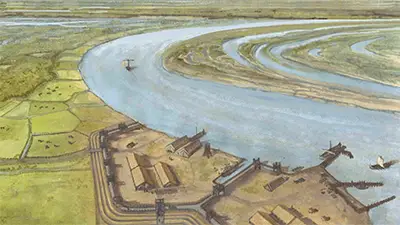 The Roman emperor Caligula ordered construction of the fort, part of a fortified camp in what is now the Netherlands. That emperor didn't have success in Britain, but Claudius, his successor, certainly did.
Roman forces built the fortified camp in Flevum (Velsen) 20 miles from what is now Amsterdam, on the banks of the Oer-IJ, a branch of the River Rhine. The intent of the placement of the fortified camp was to keep in check the Chauci, a Germanic tribe. Once the invasion of Britannia had succeeded, Claudius ordered the troops in and around the Velsen fortified camp to retreat behind the Rhine.
Dutch archaeologist Arjen Bosman and others found wooden planks dating to 42, solidifying a long-held theory that such a fort existed there. A chance find of potsherds by children in the area in 1945 led to excavations in the next few decades. The discovery of a Roman wall, gate, and ditches in the late 1990s confirmed the area as a place of interest, and the government protected it accordingly.