---
Englishwoman Wins International Pancake Day Race
On This Site
Share This Page

---
Follow This Site


February 26, 2020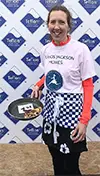 The Pancake title is back across the Pond.
Katie Godof (right), an Englishwoman from Olney, won this year's international Pancake Day race, finishing in a time of 1 minute, 6 seconds. The winner of the Liberal, Ks., race was Whitney Hay (left); her finish time was 1 minute, 9 seconds.
Other races take place throughout the Liberal celebration, but the official race is open only to women who are 18 or older. The race is a 415-yard course that follows an "S" shape, to mirror the route supposedly taken by the woman late for church all those years ago. Competitors must wear a head scarf, an apron, and a skirt; they must carry a frying pan, and they must flip the pancake in the pan at least twice, once at the start and once at the finish.
The Liberal race is part of a multi-day affair, involving other races (including a 5K running race that involves not one pancake), other contests (among them a timed test of pancake flipping), a parade, a talent show, a shriving church service, and (of course) a pancake breakfast.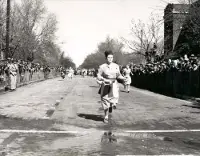 Since 1950, the towns of Liberal, in the U.S., and Olney, in the U.K., have taken part in the International Pancake Day challenge, which compares the winner of each country's official race and then declares an international champion. Liberal is ahead in that count, which now stands at 39–30.
The international course record is 55.02, set by Olney's Lianne Fisher in 2016. Tasha Gallegos set the Liberal course record of 57.5 in 2009.
The Olney tradition dates to the 15th Century. Tradition holds that the first race took place in 1445, partly because pancakes were popular at the time at the royal court. The race was not an annual event for various reasons.
In 1948, Reverend Canon Ronald Collins, the Vicar of Olney, was clearing out a cupboard and found some photographs from the 1920s or 1930s showing women running while holding frying pans. When the vicar found out more information, he decided to revive the event. The people of Liberal, Kan., heard about the event and started their own, in 1950, and the international competition was born.
All of this pancake race business stems from an English story. As the story goes, an Olney woman in 1445 was cooking up a pancake in a skillet when she heard the village church bells ring, announcing the Shriving service. The woman, fearful of being late, dashed out of her home and to the church, without changing clothes and still carrying the pan with the pancake in it.
Shrove Tuesday is a day of focus and reflection ahead of Ash Wednesday, an important day in the Christian calendar. The tradition of pancakes or the equivalent on Shrove Tuesday is an old one. The idea of Lent used to be that Christians observing a traditional "giving up" of something important to them would refrain from eating dairy products and foods full of sugar. So, to use up any existing milk and eggs and sugar, people commonly made a lot of pancakes and ate them. (Shrove Tuesday has also been called Pancake Tuesday. It coincides with Mardi Gras.)