---
Iditarod 2020: Teacher on the Trail
On This Site
Share This Page

---
Follow This Site


March 7, 2020
Kelly Villar, of Mansfield, Conn., is the 2020 Iditarod Trail Sled Dog Race Teacher on the Trail. Race organizers selected her from three finalists in May 2019.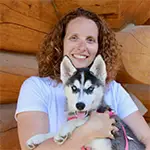 Originally a teacher in Virginia Beach, Va., Villar has taught elementary school students in Mansfield since 2004, most recently at Southeast Elementary School. A keen fan of the Iditarod since her earliest days of teaching, she had her first musing experience in New Hampshire a few years ago. An avid skier from a very young age, she also learned to climb and do high ropes courses; exercise for pleasure these days for her involves camping, hiking, kayaking, and other outdoor pursuits. She has also worked as a lifeguard and performed as a synchronized swimmer.
She and her husband and six children look after two rescue dogs in their Mansfield home; Villar volunteers for the American Lab Rescue.
The Teacher on the Trail program began in 1998, with a fund-raising effort by Andrea Aufder Heyde.
The race began in 1973.