The ceremonial start marked the beginning of events for the 48th annual running of the Iditarod Trail Sled Dog race. As happened last year, the snow was plentiful.
During the ceremonial start, the 57 mushers and their teams left at two-minute intervals and made their way leisurely through the 11-mile crowd-lined Anchorage route.
The race gets underway in earnest the day after the ceremonial start. The start is in Willow; the finish is in Nome. The race will traverse the Northern Route this year. The Northern Route has 23 checkpoints and goes through Yentna Station, Skwentna, Finger Lake, Rainy Pass, Rohn, Nikolai, McGrath, Takotna, Ophir, Cripple, Ruby, Galena, Nulato, Kaltag, Unalakleet,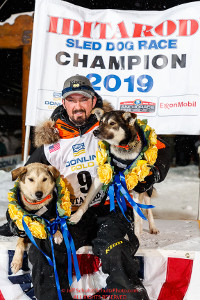 Shaktoolik, Koyuk, Elim, Golovin, White Mountain, and Safety before finishing at Nome.
Pete Kaiser of Alaska is back to defend his title. He won the 2019 Iditarod in a time of 9 days, 12 hours, 39 minutes, and 6 seconds. Joar Ulsom of Norway, the 2018 winner and runner-up last year, is returning.
Another familiar face to race fans will be Lance Mackey. The four-time winner had battled throat cancer and other health problems in recent years and started last year for the first time since 2016.
Aliy Zirkle, three times a second-place finisher, is back, as is four-time winner Martin Buser and three-time champion Mitch Seavey, whose win in 2017 made him the oldest champion. (He was 57 at the time.)
Race organizers last year made a number of significant rule changes in the name of safety. Among the changes:
If a dog dies during the race for any reason other than unforeseeable reasons (meaning that the musher could have prevented it), the musher is immediately out of the race.
The maximum number of dogs that a musher can start with is 14 (down from 16). Mushers can finish with as few as five dogs, choosing to leave dogs at checkpoints because of illness or injury or as part of strategy.
Members of the Iditarod board cannot compete while they sit on the board.
The race will abide by kennel standards developed by Mush with P.R.I.D.E., a kennel certification organization that insists on human care of sled dogs.
The changes came as the result of a report following an investigation into twin controversies from the 2017 race: four dogs died during the race, the most in nearly a decade, and more than one dog on the team of four-time champion Dallas Seavey failed a drug test.
The winner will receive about $55,000 and a new truck. Longtime sponsor Alaska Airlines recently announced that it was ending its support of the race.
The event, which began in 1973, commemorates the 1925 Serum Run a desperate delivery of life-saving medicine across the frozen wilderness to children in Nome.