---
Archaeologists Find Cabin Lived in by Harriet Tubman
On This Site
Share This Page

---
Follow This Site


April 21, 2021
Archaeologists are confident that they have found a cabin once lived in by famed Underground Railroad 'conductor' Harriet Tubman.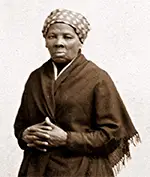 Tubman, once a slave herself, helped hundreds of others escape the bonds of slavery by traveling along the Underground Railroad, a network of safe houses and protected passages designed to shepherd African-Americans from slavery in the South to safe havens in the North.
She was born Araminta Ross near what was then Tobacco Stick and what is now Madison, in Maryland's Dorchester County. Historians still differ on when she was born; the range is 1819–1822. She was one of eight children of Ben and Rit Ross; all were enslaved. Araminta went by the nickname "Minty".
Hers was not a gentle life, though. She was a slave just like her parents and siblings were. She lived for a few years in the early 1840s in a cabin in the swamps of Dorchester County. She escaped slavery when she was 25 by marrying a free African-American named John Tubman. She then went by the name Harriet Tubman.
Anthony Thompson, who held the Ross family's slave bond, gave Ben Ross his freedom and 10 acres of land, including the cabin, when he died. Ross, a lumberjack, would have built the cabin himself. That cabin vanished into disrepair and had long been presumed lost for good.
Harriet Tubman, then "Minty" Ross, learned many outdoor skills from her father while living in that cabin in the woods. She would have used those skills to help her charges travel on the Underground Railroad to freedom in the 1850s and 1860s. Among those she helped escape were her parents, who were not enslaved at that time but were still in danger of being seized by Confederate forces operating in the area.
The cabin is in a part of the state known as Peter's Neck that is now owned by the National Wildlife Refuge System. Historians and archaeologists knew that Tubman's family lived somewhere in the area, but they did not know where and, until recently, had found no signs of such habitation.
Julie Schablitsky was the head of a team of archaeologists from the Maryland Department of Transportation who investigated the land for months, digging more than 1,000 pits and coming up empty every time. It was Schablitsky herself who

found one of the first clues, a 1808 coin stamped Liberty. (She found that coin while idly wandering down a faded road and carrying a metal detector.) The team descended on the site location and found more evidence of previous human life, including bricks, dish fragments, glass, nails, a pipe stem, and pottery.
The site where the cabin once stood will become part of the Harriet Tubman Underground Railroad Byway, a 125-mile network that incorporates dozens of sites linked to Tubman's life and feats.