---
Navy to Name Carrier after Pearl Harbor Hero 'Dorie' Miller
On This Site
Share This Page

---
Follow This Site


January 20, 2020
The U.S. Navy will name a new aircraft carrier after Doris Miller, an African-American World War II veteran.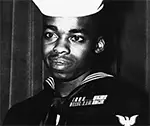 Miller rose to the occasion during the Japanese attack on Pearl Harbor on Dec. 7, 1941, manning a machine gun until he was out of ammunition. He was a mess attendant aboard the battleship West Virginia. When a Japanese torpedo hit his ship, he was sorting laundry. Eight more torpedoes hit the West Virginia that day, and the ship sank. Miller helped his captain, Mervyn Bennion, who was mortally wounded, to safety and then took to firing the gun. As his ship sank, he jumped to safety.
Miller went on to serve in the Pacific. He was on the aircraft carrier Liscombe Bay in November 1943 when it was sunk by a torpedo from a Japanese submarine at the Battle of Makin. He was listed as missing and then, after 366 days, presumed dead, the latter coming on Nov. 25, 1944.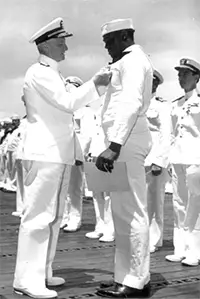 In 1942, the Navy awarded Miller the Navy Cross; he became the first African-American to receive that honor. He also received the Purple Heart, the American Defense Service Medal, the Asiatic-Pacific Campaign Medal, and the World War II Victory Medal.
Miller was born on Oct. 12, 1919, in Waco, Texas. His mother named him Doris because she thought that she was having a girl and then didn't want to change the name. Doris often went by the nickname "Dorie." He worked on the family farm until he was 20, when he joined the Navy.
The Navy named another ship, the destroyer escort Miller, after him in 1973 but then decommissioned that Knox-class frigate in 1991. The new ship will first sail in 2028.