---
---
The Seven Youngest English Monarchs (at Accession)
7. King Edward II
Age at accession: 12 years, 5 months, 3 days
Reign: 1307–1327
He was the successor to King Edward I, commonly known as "Longshanks." That king led English troops on a dedicated campaign to subjugate Scotland. His son Edward continued in that vein, although he was less successful. In fact, Edward was king when Scotland won the Battle of Bannockburn, acclerating what had been a Scottish rollback of Longshanks' gains. Edward was also unable to stand up to an invasion from France (despite being married to a French princess), and he eventually abdicated in favor of his son, who became Edward III.
---
6. King Edward the Martyr
Age at accession: 12 years, 1 month, 6 days
Reign: 975–978
This king had a relatively brief time on the throne. When his father, Edgar the Peaceful died in 975, Edward might have thought that he, the eldest son, would be the next king. But King Edgar had other ideas, and the result was a contested kingship. Edward had the support of powerful church leaders; Edward's half-brother, Ethelred, had the support of powerful nobles. The church leaders took the initiative and named the 12-year-old Edward king; the result was a civil war. To this day, no one knows for sure who killed the king, but he was killed, at Corfe Castle, in 978, and gained the name Edward the Martyr. He was succeeded by Ethelred II.
---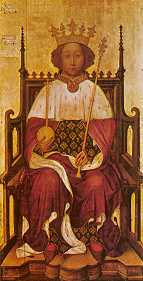 5. King Richard II
Age at accession: 10 years, 5 months, 15 days
Reign: 1377–1399
Richard was a very unpopular king for much of his reign. He was king in name only for a few years, while his uncles John of Gaunt and Thomas of Gloucester acted as regents, then assumed the throne in his own right. The introduction of a poll tax in 1380 resulted in a peasants revolt the following year. Richard found more success on the battlefield, where he led his troops on a mission to reconquer the western part of Ireland; he was less successful at stopping the Hundred Years War, which had begun in the reign of his grandfather and predecessor, Edward III. Henry Bolingbroke, the son of John of Gaunt, returned from exile in 1399 and led a revolt. Parliament removed Henry as king and imprisoned him in Pontefract Castle, where he died of starvation, in 1400. Richard II was succeeded by Henry IV.
---
Numbers 4–2
Search This Site
Custom Search
Social Studies for Kids
copyright 2002–2016
David White